Celebrate El Dia de Los Muertos!
A Family Altar
The Mexican festival, Dia de Los Muertos (Day of the Dead) is a holiday that always fascinated and frightened me as a child.
As I got older the more I learned about it, the more I wanted to join in. The Day of the Dead is a way to honor and remember those who have died. It is celebrated on November 1 and 2 (The 1st being All Saints Day, the 2nd is All Souls day in the Catholic Faith.) All Saint's Day, in the Mexican culture, is a celebration for the soul. of children who have died. All Saints is for adult souls to return and visit their families. An altar is made with pictures of the deceased, decorated with marigold flowers, Pan De Muerto (bread of the dead), and sugar skulls. Plus foods of whatever was the decedent's favorites. Some might have bottles of beer, cigars, anything that would make the decedent happy.Families would gather at the cemeteries to clean and decorate the graves. Some may even picnic.
One of the most recognizable images of the Day of the Dead is the sugar skull. They are decorated and have the name of the deceased on the top.
The altar is decorated with clay figurines called calacas. They are made into whimsical characters of all kinds. Like our Happy Widow here. Children are also given calacas to play with so that death is something not to fear, but is a part of life. To celebrate the souls who went before.
José Guadalupe Posada's Katarina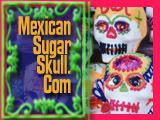 Mexican Sugar Skull
is a great find for all your Dia de los Muerto supplies. They have sugar skull making kits and gorgeous fabrics. Papel picado (paper banners), tshirts and more.
José Guadalupe, Mexican Engraver and Illustrator
Casa De Calaveras
AZ Central's great on-line exhibit of Dia de Los Muertos